100% Organic Japanese Cotton
5 Feet Usable Cotton
Proper Cotton Amount To Fit 3mm ID Coil
Great Absorption Capability
Cotton Dispenser Design
Metal Cotton Eyelet
Cotton Wrapped Within Box
FreeMaX GEMM Disposable Tank Features:
25mm Diameter
5mL Capacity
4mL Capacity
Food-Grade PCTG Plastic Construction
Top Fill System - Silicone Stoppered
FreeMaX GEMM Integrated Coil Series
0.15ohm G1 Mesh Coil - rated 40-80W
0.15ohm G3 Triple Mesh Coil - rated 50-90W
Dual Slotted Bottom Airflow Control Ring
Organic Tea Fiber Cotton Wicking Medium
510 Connection
Available in Clear, Blue and Silver
Comes in a pack of two (2).
 
DRIP TANK - 3-PACK Specification:
Size: 46x24mm
TPD Capacity: 2ml
Non-TPD Capacity: 3.5ml
Resistance 0.15Ω
Recommended Wattage: 40-50 Watts
Best performance: 50 Watts
THE DRIP TANK - 3-PACK available to order Online from VAPEUAE1 with a unique Delivery service in UAE, Abu Dhabi, Dubai, Al Ain, Ras Al Khaimah, Ajman, Sharjah
Pack of 5 replacement coil heads
Designed to have longer lifespan & maximum flavor
Material: Kanthal A1
Coil Resistance: 1.0ohm
Compatible with OXVA Origin / OXVA X Pod System Vape Kit
Plug & play installation
OXVA ORIGIN COIL SERIES
UNI 0.5 MESH

0.5 OHM COIL
SINGLE MESH
DL

UNI 0.3 MESH

0.3 OHM COIL
SINGLE MESH
DL

PLUG AND PLAY CONNECTION

GOLD PLATED PROPRIETARY CONNECTION
POD ACTS AS TIP
Product Specifications
Refillable Pod
3ml Capacity
Side Fill Port
Silicone Plug
RBA Base Section
Dual Posts
Single Terminal
Single Coil Integration
Side Mounted Screws
Hex Key
Bottom Set Airflow
Product Includes
One HITA RBA Base
One 510 Adapter
One Hex Key Driver
One Set of O-Rings
0.8ohm
15-20W
KA Mesh Wiring for fast ramp up and excellent flavour
"Plug 'N' Play style coil installation
3 pieces per pack
Compatible with Aspire Breeze NXT ONLY (NOT Compatible with Breeze 1/ Breeze 2 devices)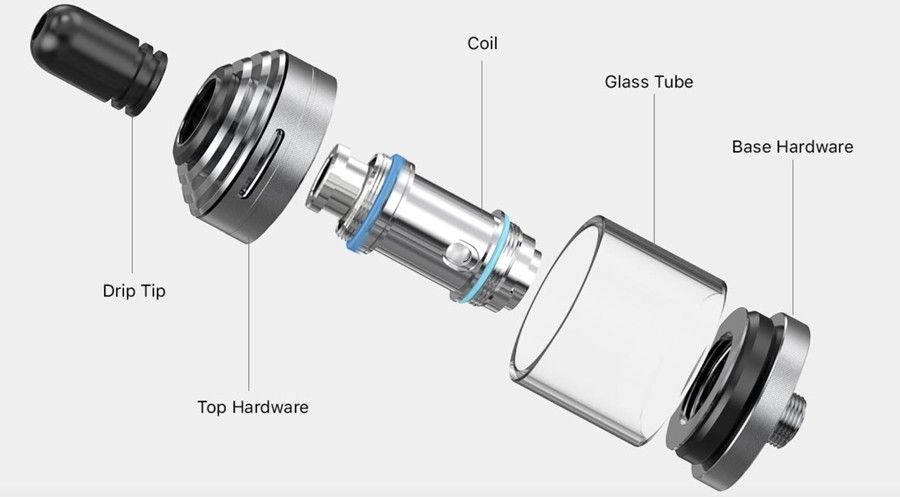 510 drip tip
Very convenient top-filling system
2 ml capacity
Adjustable top airflow
Coil parameters:
Nautilus XS mesh coil 0.7Ω (18-22W)
Nautilus X coil 1.8Ω (12-16W)
Dimensions (including drip tip): ‑22 x 48 mm
Size

: 18.20mm x 65.05mm

NominalVoltage   : 3.70V

Nominal Capacity  : 3500mAh

Charging Metod    : CC/CV 4.20V

Discharge Voltage : 2.50V (Average Cut Off)

Charging Current CC : 1250mA

Rapid Charging Current : 3500mA

Continuous Discharge Current : 15A

Max. Short Peak Discharge CC : 35A

Weight      : 60gr.max

Colour : Rainbow

Version : Flat Top
Efest 18650 Brand: Efest Size: 18650 Chemistry: IMR Nominal Capacity: 3000mAh Nominal Voltage: 3.7V Discharge: 10A Continuous, Rated 20A Max Pulse by Efest Positive: Flat Rechargeable: Yes Dimensions: 18.25mm x 65.25mm Weight: 47g
The V12-T10 features a 0.12 ohm decuple 10 coil cylinder to provide the biggest cloud production.
The V12-T10 is capable of firing up to a impressive 120W.
The V12-M4 features a 0.17 ohm quadruple 4 coil cyilnder giving a strong flavor production. The V12-M4 is rated to fire up to 70W.
The V12-X6 features a 0.15omh sextuple 6 coils cylinder providing a balance between a thick cloud and a strong flavor production.
The V12-Q4 features a 0.4ohm quadruple 4 coil cylinder giving a strong flavor with each puff. The V12-Q4 is rated to fire up to a impressive 100W.
SMOK TFV12 Prince Mesh coils are made for use in the TFV12 Prince Tank and have a resistance of .015ohm. TFV12 Prince Mesh coils can be used at 40-80W (best at 60-70W) and delivers smooth and quality flavor every time.
The TFV12 Baby Prince RBA Coil from SMOK is designed for TFV12 Baby Prince Tank or Big Baby Prince Tank. With 0.27ohm dual coils, it will bring you a good vaping experience. Best choice for DIY lovers. Just get one for your Baby Prince tank! TPD Version and Standard Version are available.